Herbs
Chirayata (Swertia chirayita) (चिरायता) |Benefits |
Introduction of Chiretta (Swertia chirayita)(चिरायता):
Chirayata (Swertia chirayita) is also known as common Andrographis, King of bitter and kalmegh. Chiretta is one of the most effective medicines for liver problems and fever. Andrographis is well known for its property to cure a cold. Andrographis has been used since ancient times for the treatment of upper respiratory tract infections, sore throats, and some chronic diseases. It is also used for the treatment of malaria, dysentery, skin diseases, Eczema.
Chirayata has also been used for the epidemic of Indian flu in the past time. Chirayata can be found across India and some Asian nations. In India, it can be seen in forest area regions, and in the land area, it is found from Himachal Pradesh to Assam and Mizoram.
Common Names of Chirayata (Swertia chirayita)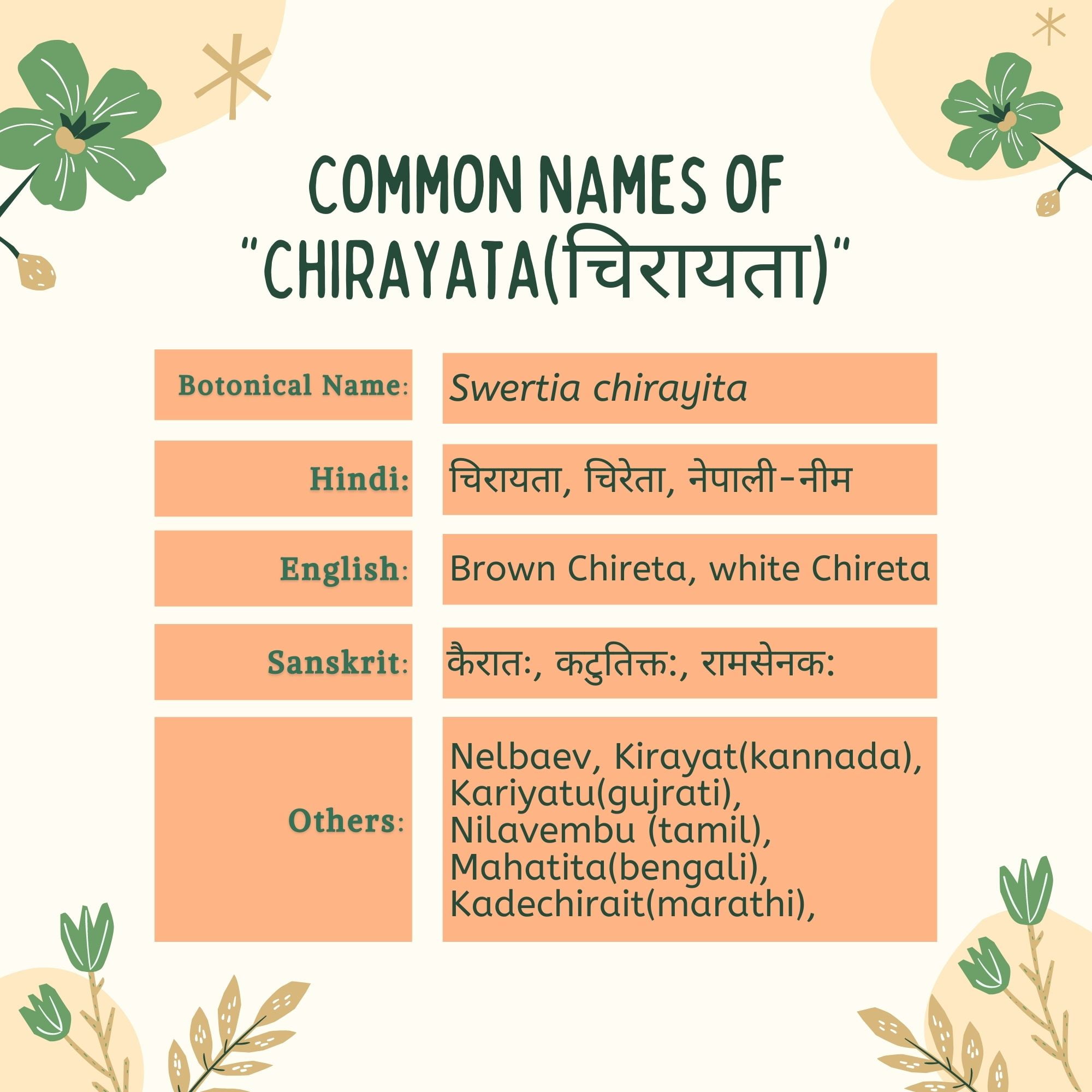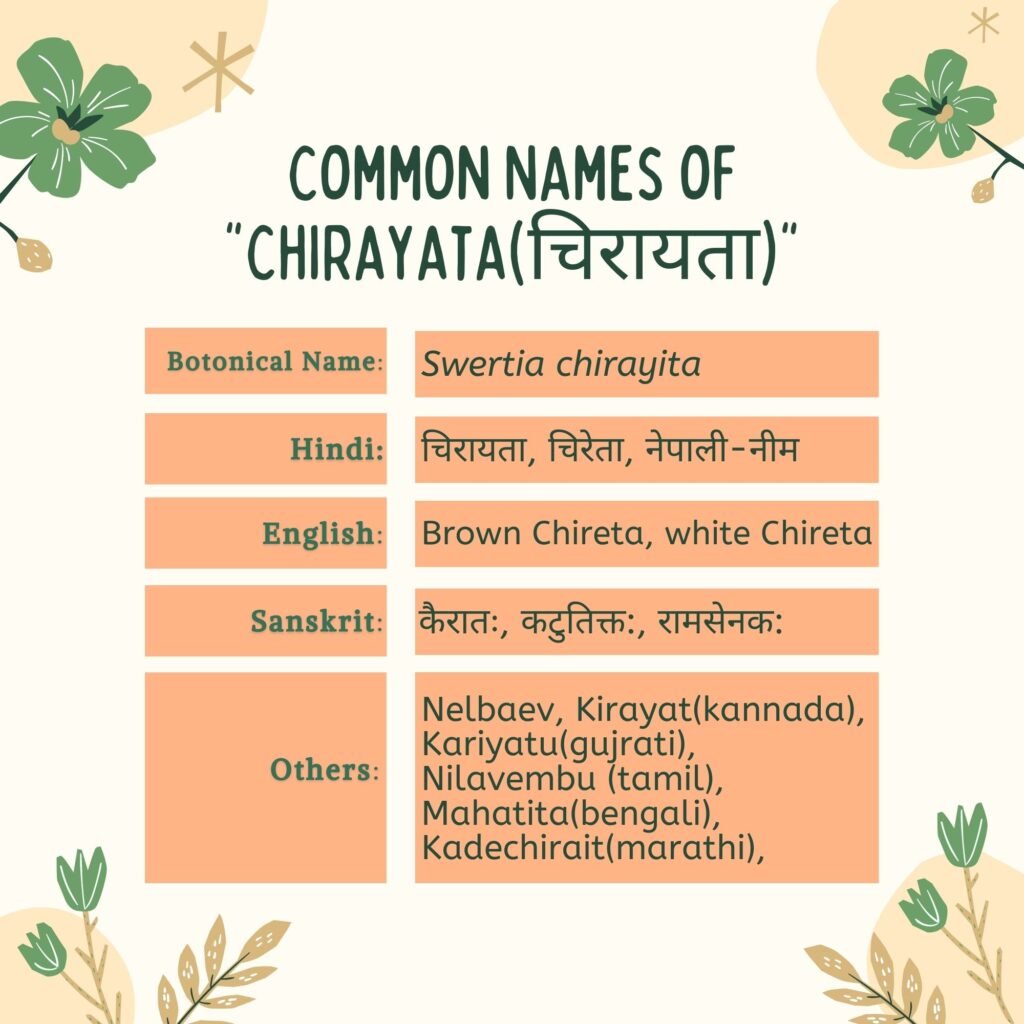 Andrographis is a 30-90 Cm tall shrub, straight, branched and its leaves are like green chilies leave. And as it is an Ayurvedic herb, it is used for multiple diseases' treatment. The upper part of the stem is quadrangular whereas the lower is almost round-shaped. Generally, Andrographis leaves and roots are used as a remedy.
Chirayata (Swertia chirayita) Ayurvedic Properties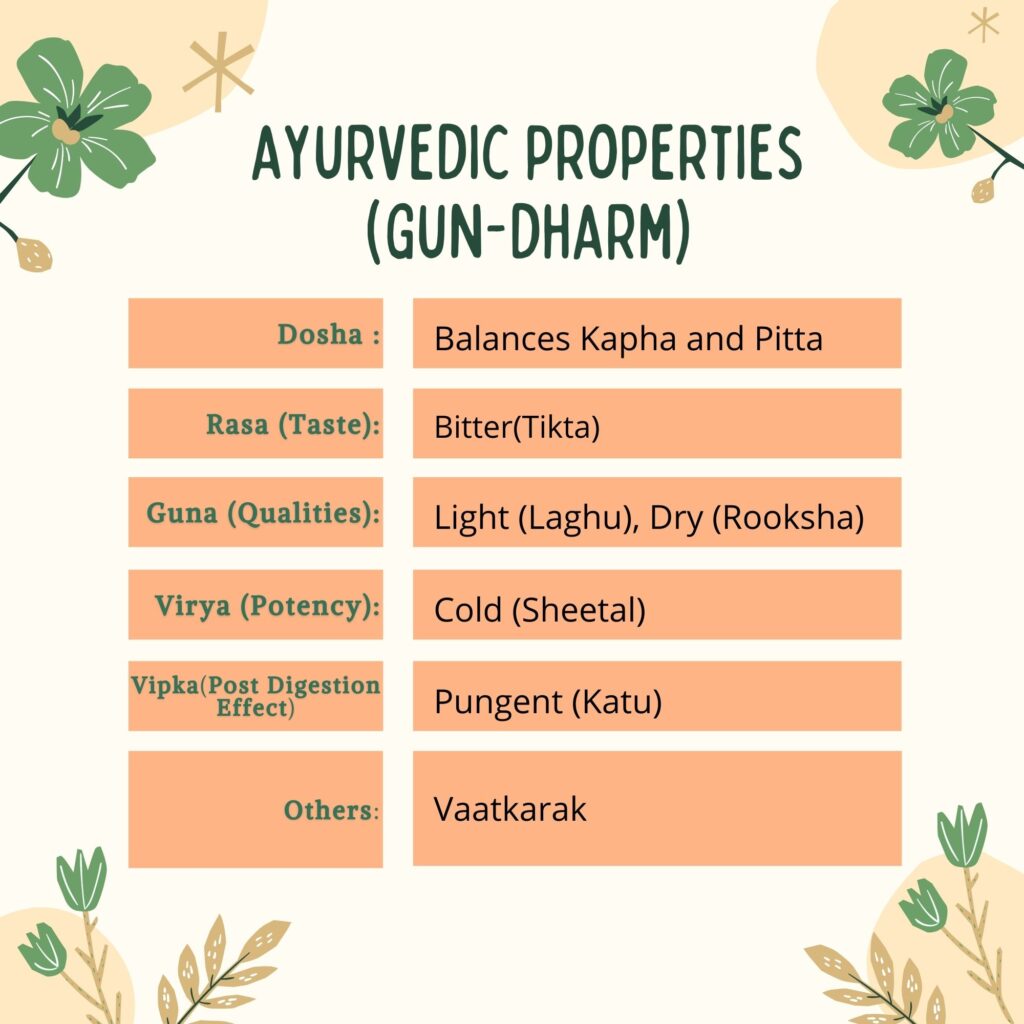 Chiryata medicinal benefits and usages-
Abdomen diseases
Hyperacidity-
Add honey in 8-10 ml decoction made of Andrographis, Triphala ( त्रिफला), the bark of Neem, leaves of pointed gourd, Vaasaa (वासा), पित्तपापड़ा**, Heart-leaved moonseed (गिलोय) and False daisy (भृङ्गराज) medicines, taking this will give you relaxation from Hyperacidity.

Diarrhea-
Make the (8-10 ml) decoction of equal part of Guduchi, Patha (पाठा), Andrographis, and picrorhiza kurroa (कुटकी), taking this will help you to improve your digestion and this will be effective in diarrhea.

Worm infestation-
Make the decoction of Andrographis panchang (पञ्चाङ्ग), taking 12-20 ml will kill the helminth of the intestine.

Indigestion-
Taking 8-10 ml decoction of Andrographis leaves will get you relaxation from indigestion.
Anus diseases
Hemorrhoids
Andrographis can be effective for the treatment of hemorrhoids
Kidney diseases-
Urine disorder
Taking 2 gm powder of Andrographis panchang (पञ्चाङ्ग) with 12-20 ml decoction of Portulaca olreceaea will help in urine disorder.
The infection of the ureter gets reduced after the break down of Renal calculus if one is given Andrographis panchang powder (3-4 gm).
Liver spleen diseases
Jaundice-
Take equal part of Vaasa, Guduchi, myrrh, baheda, Amla, picrorhiza kurroa (कुटकी)*, Andrographis and the bark of Neem, make the 12-20 ml decoction of it and add honey, drinking this will get you rid of Anemia, jaundice, blood disorder (रक्तज विकार).
Reproduction parts related
Make 2gm paste of Andrographis, add the same part of the sugar in it. Talking this will stop vomiting which happens during pregnancy.
Skin diseases-
Skin disorder-
Using Decoction made of chirayata, seeryak(सैरयक), patol (पटोल), etc medicines can be effective in vomiting, leprous, poisoning, detoxification (विष-विकार), fever, itching, and dysmenorrhea. And it also removes contaminated ulcers.

Itching –
Just soak 2gm ghamaasa ( घमासा) and 4gm Andrographis in water for the whole night, make the paste of it and drinking it with milk in the early morning will help you in itching.

Pimples-
Make the decoction by taking 2 part of andrographis and 1 part of Neem bark's powder, drinking 12-20 ml decoction for 3 days will suppress pimples.
Eczema –
Mix Andrographis powder with glycerin, it used as a lotion for treatment of eczema.
Useful parts of Chirayata (Swertia chirayita):
Leaves
Wood
Extract
Bark
Roots
Dosage of Chirayata (Swertia chirayita):
Juice-50 ml a day
Powder-
Capsule / tablet – 1-2 capsule twice a day
Buy Bharat Chirayata (Swertia chirayita)
Read more Articles