Ayurveda
Do There are Best Before or expiry dates in Ayurvedic medicines??
Ayurvedic Medicines Best Before 
Common Saying that in Ayurveda Medicines don't expire. this may seem odd but according to ancient scriptures, there are duration limits described for maximum potency of medicines. although after passing this duration all medicines do not expire but gives the best results when used within the duration. let's understand how long different medicines result best.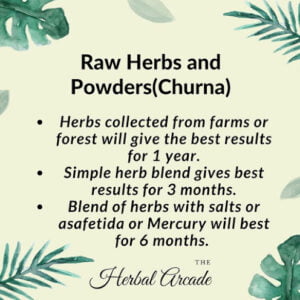 Best Before of Churna and Raw Herbs
Raw Herbs

C

ollected from farms or forests will give the best results for 1 year.
Single herb blend or Simple Churna

gives best results for 3 months, for example, ashwagandha churna, amla churna 
Blend of herbs with salts or asafetida or Mercury will best for 6 months, for eg.  (putting in a glass airtight container will help to keep its medicinal value for even longer)
Best Before of Asava and Arishth

Asava Arishth

Fermented liquid medicine contains self-generated alcohol. Asava Arishth is free from Expiry dates as its potency increases as it ages, Usually written 10 years over most pharmacy's bottles.
Best Before of Kwath And Kashaya

Kwath (Churana) (Herbal Tea)(Blend of Herbs)

Kwath: best before 2 years
Kashayam (decoction)

Syrup made by boiling herbs for a long time. Kashayam is prescribed by scriptures and vaidyas 6 months -3 years depends upon type and method of preparation

Kashayam (decoction) – decoction made at home must be taken immediately
Best Before of Vati, Guti, Avleh, Ark, Tail in Ayurveda

Tablet (vati, gutika, guggul)

tablets prepared from Herbal Ingredients: best before 2-3 years
Herbal Jam(Avleh, Leham)

Syrup made by boiling herbs for a long time.
Avleh(leham)- best before 3 years
Ark (Herbal extracts)

Liquid extract by distilling herb(s)
Ark – Best before 1 year
Ayurvedic Tail (Herbal Oils)
Best Before of Grit, Lavan, Eye Drops and Bhasm
Lavana(salts), Kshara(alkalis)
Dant Manjan

Eye Drops

1 month (if placed in an airtight container 1 year)
Metal Bhasm

10 years(gold bhasm potency increases as it ages)
** Above Post is for Information Purposes, data are collected from various literature or experiences of many physicians (vaidya).**
Read more
–
www.herbalarcade.com